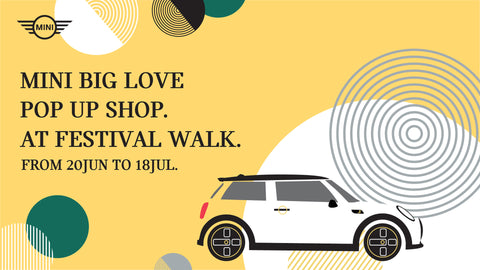 MINI embraces the new partnership with Laws Knitters for the first time to co-create a limited special collection with recycled yarns to support MINI BIG LOVE: Sustainability for the Planet.

MINI x LAWS KNITTERS Co-creation items include: Tote bag, cushion, tray, tablet case and keychain. Design inspiration comes from classic MINI cars, and sustainable materials are used in the product manufacturing process. There is an exclusive card holder for current MINI owners for free by showing your MINI car key when you pick up your purchase.

FOUR EASY STEPS to own your sustainable MINI Item(s):

STEP 1: Select your favourite co-creation item.
STEP 2: After purchased, you can get a tailormade MINI Key Chain with your customerized wording plus a limited key charm.
STEP 3: Join the 15-min MINI Knit Expert workshop to complete the final process of your one-of-a -kind MINI key chain at the MINI BIG LOVE POP UP SHOP at Festival Walk when you pick up the purchased item.
STEP 4: Exclusive MINI POP-up offers of MINI Electric & MINI Countryman are now available in store. Limited stock with limited tim. Don't MISS it.

All proceeds will be donated to REDRESS after deducting the production costs in order to support their mission of reducing textile waste. Support us enthusiastically!
MINI Big Love Pop Up Shop